About Us
The history of the Cheese Nook and Kitchen Gadgets Shoppe began with the building of phase 1 of Periwinkle Place Shopping Center in 1973. The second phase began about ten years later when the owner, Mariner Properties, added the second group of spaces on the side where Congress Jewelers is now located. The Cheese Nook was one of the original stores in Periwinkle Place and opened by Jonathan and Kitty Bourne, retired farmers from Pennsylvania. 
Steve Corbin's family bought a winter home on Sanibel in 1974, and at 26, his parents and he bought the Cheese Nook from the Bournes in the summer of 1978. At that time the entire city government including the police department, operated from the second floor at the shopping center as no government offices had been built yet following the incorporation in 1974. All the founders of the city of Sanibel were seemingly ever-present and always stopped in the Cheese Nook, including Porter Goss, Duane White, Fred Valtin, Don Whitehead, Zee Butler, and others. The Island Reporter newspaper was also located here. Periwinkle Place in the late 70s early 80s was where it was happening on the island.
Back then, the store sold gourmet cheeses, foods and some deli meats, wines, kitchenware and some gift items. Steve's family was in the department store business in western Pennsylvania, and he had gone through an extensive management training program after college, so he came with knowledge and experience in the retail trade. He immediately concentrated on the tourist market by adding many Sanibel-related gifts and souvenir items to our inventory. Not much to choose from back then, but we began attending trade shows to get an idea of what beach-related merchandise was available. Heather, Steve's wife has always been an energetic, creative, and idea-driven person and was responsible for many very successful product lines we introduced through the years. The Sanibel Seasonings and later Sand Castle Kitchen Seasonings line of party dip mixes, salad dressing mixes, cooking spice blends, etc, was introduced in 1983 and featured 15 products at its peak. In the early 80s, key lime products were unheard of and key lime pie was only known in south Florida. The very first so called key lime product was Nellie and Joe's Key West lime juice. The Corbin's heard about it from Dave Higgins and Carl Heddon who owned Colonial Cheese in Naples. Being in the cheese business like the Corbin's, they shared ideas about products. They became friends bound together by the common bond of cheese people. Higgins and heddon told Corbin's about Nellie and Joe's, so they decided to find out. The label gave them a few details, but the address on the bottle led to a vacant lot in Key West. They stopped in a nearby convenience store to inquire. They were told that the couple lived down the street, so they knocked on their door. The door parted slightly, and a big Key West "Conch" as they were called with a big gold front tooth, Joe, asked what they wanted. "Lime juice," They said.
That encounter led to years' worth of a good relationship until the couple sold the company, and then it went big time. They would not ship or deliver, so The Corbin's had to take their old Ford Country Squire station wagon every couple of months to meet up with Joe in Homestead, Florida, to make the pick up. They could get about 20-25 cases of 24 bottles per case in the back of the wagon, allowing for about 1/2 inch clearance from scraping the road underneath the car bottom. 
Nellie let it slip once that the juice was mainly sour orange juice they stored in some old steel storage drums on their back porch. Nonetheless, it made a perfect pie and everyone loved the "key lime pie." They were the only store in Lee County that carried a product to make key lime pies because it was such a considerable effort to get. Later, of course, key lime products would abound, but in those early days anything we could get that was key lime was huge.
In the 1990s, business on the island was so good you could practically put anything on the shelves, and it would sell. The parking lot was packed nearly every day. Obviously, before the internet became so popular.
Heather and Steve owned the store for over 30 years; they had two employees and the help of their retired parents. At one time, they were the longest-running retail business owner on the island next to Francis Bailey (who was a good friend from our days in the late 70s of playing on the same softball team). 
The Cheese Nook was a fantastic business but required a lot of work, long hours, and short vacations to succeed. The Corbin's sold the store in January 2009 to a couple from Michigan. They had to co-sign the lease with them to have the sale approved by ownership. It was a three-year lease, and unfortunately, they went bankrupt after two years, and The Corbin's became liable for the last year of the lease. They decided to go back and bring the old store back to life and finish out the lease. Because the Cheese Nook name was in bankruptcy and they wanted to use the old resources for merchandise, they quickly had to find a new name to operate. Because the Corbin's live on Sand Castle Road on Sanibel and no one was using the Sand Castle theme, they decided that was the way to go. So they quickly filed for an LLC as Sand Castle Gifts and Gourmet. The Corbin's kept the store for 27 months and then sold it to the Dave and Christine Kempkers. The Kempkers operated Sand Castle Gifts & Gourmet until December of 2021. They endured a hurricane as well as red tide bloom before being faced with the Covid 19 pandemic. Through thick & thin Sand Castle Gifts & Gourmet (Cheese Nook) continued its long run in Periwinkle Place delighting all of its loyal customers.
In January 2022, Tom and Pam Stumph bought Sand Castle Gifts & Gourmet The enthusiastic couple along with their staff embarked on a renovation at the 2,000 square feet store that would include a candle bar. Sanibel Candle Company would be the first of its kind in SW Florida where customers choose from over 60 scents to blend a fragrance specifically theirs. That fragrance would then be used to create candles, room mists, body products, etc. 
On September 24th the "The Castle" as it was affectionately known, closed for business at the end of the day. Starting Sunday, September 25th, Bonnie Mooney the Store Manger and long time employee, began clearing shelves of merchandiser for a week of final renovation. "The Castle" and Sanibel Candle Company were poised to have a Grand Re-opening in October 2022. Little did we know on Wednesday September 28, 2022 Hurricane Ian would hit our beautiful island and change things forever. 
Sand Castle Gifts & Gourmet (formerly The Cheese Nook) would have celebrated its 50th Anniversary in 2023. We at "The Castle" are determined to welcome our loyal customers again along with new visitors to the island when rebuilding is complete. 
UNTIL then we turn our attention to creating an e-commerce store where people who love Sanibel & Captiva can go to buy island merchandise. Net proceeds will be donated to the island recovery efforts, Much of the initial e-commerce merchandise has been generously donated by our vendors to support Sand Castle Gifts & Gourmet and the Sanibel/Captiva recovery.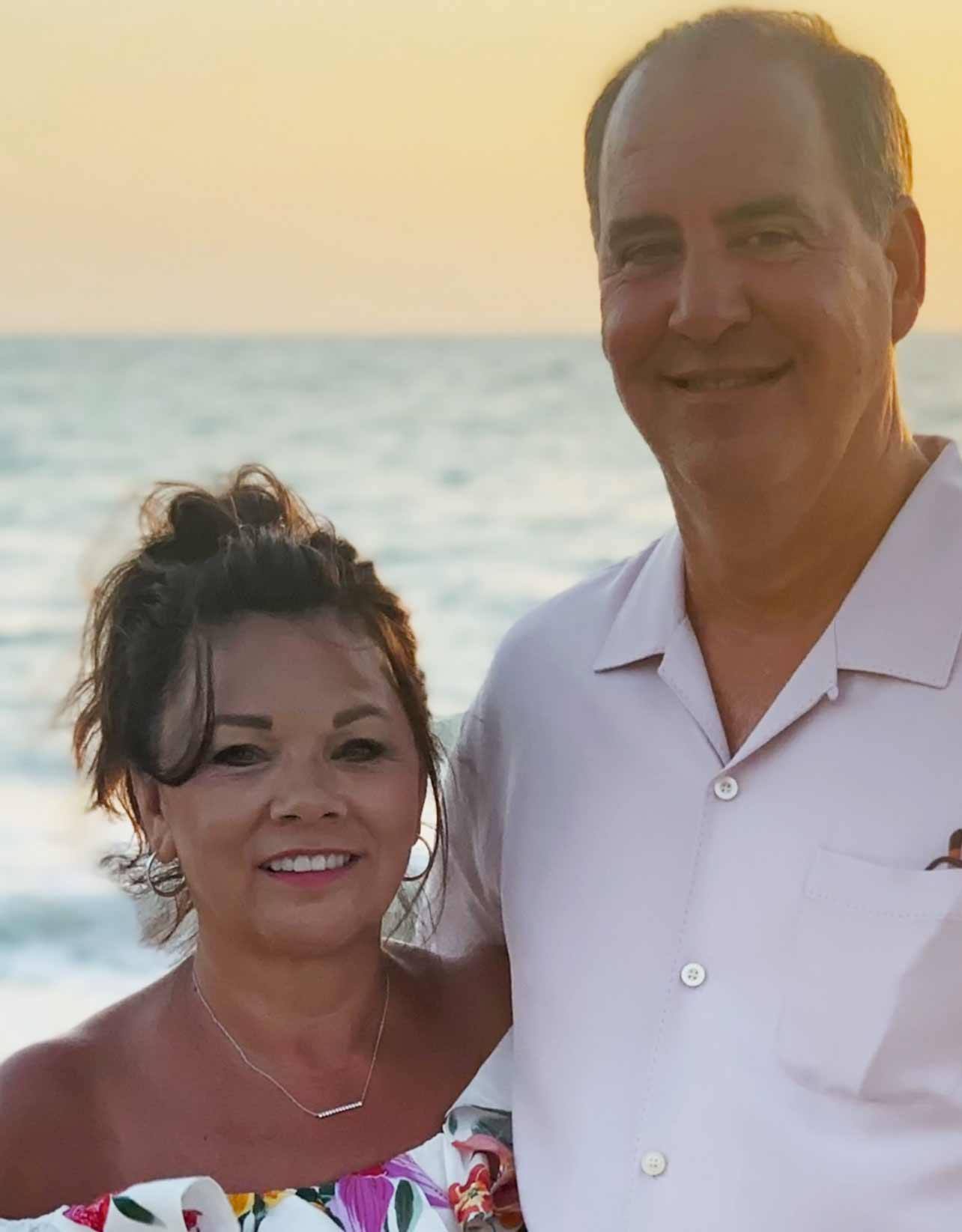 Pamela and Tom Stumph
The Stumph's hold a special place in their hearts for Sanibel Island. They intend to work harder than ever to help Sanibel and Captiva make a full recovery.
Visit Help Sanibel To Learn More